BLU BOYS SECOND IN 8th ASIAN MEN'S SOFTBALL CHAMPIONSHIP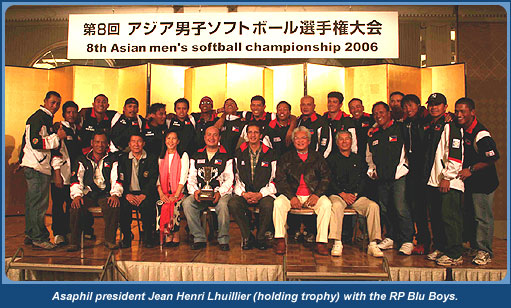 The Philippine Blu Boys placed second to Japan after a tensely fought final, 8-1, in the just-concluded 8th Asian Men's Softball Championship.

With the second-place finish, the RP Blu Boys, together with Japan and third-placer Indonesia, will represent Asia in the World Championship in Canada next year.

"This is a opportunity for me to see where we stand in the region. It's a good start for the team and the new Asaphil board. Our goal is to be No. 1 and we will do this through developing programs that will tap talented, young and dedicated athletes that we can train to represent the country just like what the Blu Boys just did here in Kita-Kyushu," Amateur Softball Association of the Philippines (Asaphil) president Jean Henri Lhuillier said.

The Blu Boys waste no time in crushing Indonesia, 7-0, in an abbreviated game to advance to the finals against Japan.

Mark Rae Ramirez delivered a homer in the second inning to start the game rolling for the Blu Boys with Roger Rojas pitching for the entire game. The Blu Boys scored six runs in the fifth inning against the Indonesians to advance to the finals.