BLU BOYS SURGE AHEAD, BEAT HONG KONG, SINGAPORE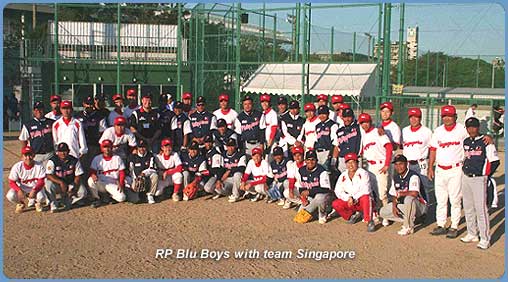 Kita-Kyushu, Japan - The Philippines' Blu Boys are right on target following an 8-1 victory by mercy rule, against Hong Kong and later against Singapore 15-0 at the second day of the 8th Asian Men's Softball Championship in Mihagino Field Kita-Kyushu, Japan.

Blu Boys pitchers, Ronilon Pagkaliwagan and veteran Roger Rojas, foiled attempts from Hong Kong to secure points allowing only two hits as against the Blu Boys' twelve. The Blu Boys were ahead 6-0 in the fourth inning before they allowed Hong Kong its lone run in the fifth. By then, there was no way the Hong Kong squad could catch up with the charging Blu Boys.

Glad with the victory, Amateur Softball Association of the Philippines (ASAPHIL) president Jean Henri Lhuillier, together with the whole team, hopes that the winning streak will continue in the next playing days.

"The hard work and dedication of the team is quite amazing. We just have to maintain that same level of intensity and stay focused on our goal," Lhuillier said.

The Blu Boys displayed the same dynamism when they charged pass Singapore later in the day to secure their third win and advance to the next round. Pitcher Mark Rae Ramirez, 2003 MVP Awardee, gave the Singaporeans a hard time at the bat as Dario Bacarisas and Ulysses Mejia contributed two run-homer each to clobber Singapore. With the win, the Blu Boys will next meet current champion, Japan, which is also currently leading their group.