BLU BOYS BEAT MALAYSIA WILL FACE HONG KONG, SINGAPORE NEXT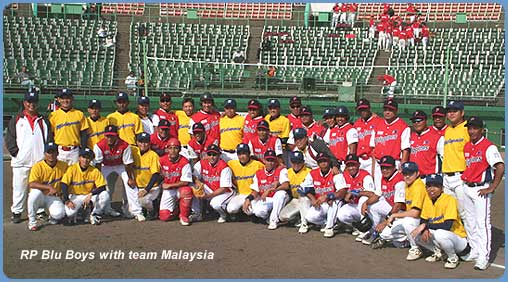 Kita-Kyushu, Japan - The sunny, cold weather in Japan was just perfect for the Philippine Blu Boys' first win, 7-0, against Malaysia in an abbreviated game at the opening of the 8th Asian Men's Softball Championship in Kita-Kyushu, Japan.

Pitcher Florante Acuña delivered five solid innings, giving up only two hits. The RP Blu Boys clobbered Malaysia with ten hits to sail through the game.

Tomorrow, the RP Blu Boys will face Hong Kong and Singapore and is expected to win both games, as well. The team is also scouting Indonesia for a possible meeting in the next round.

"The team did well for our first game and I hope this same kind of intensity will continue for the next few days," Jean Henri Lhuillier, Amateur Softball Association of the Philippines (ASAPHIL) president said. Lhuillier is also in Japan to lend support to the team.

Earlier in the day, Japan, the Philippines' erstwhile rival, nailed its first win against Thailand, 18-0. With five holdovers from last year's line-up, Japan's young national team will face Brunei and Indonesia next. Hong Kong meanwhile prevailed over Singapore, 7-1.