BANGKOK BOUND CEBUANA LHUILLIER SOFTBALL TEAM
SWEEPS 1ST ROUND OF THE MANILA SLO-PITCH SOFTBALL LEAGUE (MSSL)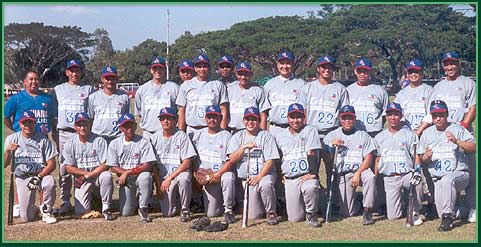 The sluggers from the Cebuana Lhuillier Softball Team continue their dominance of local softball by dominating the first round of the Manila Slo-Pitch Softball League (MSSL) tournament.

Racking up seven straight wins against seven equally strong teams in the league, Cebuana Lhuillier earned the distinction as early title favorite, going in to the 2nd round of the tournament. The second round of competition begins this weekend with games to be played at the US Embassy field at Seafront, Pasay City.

After overpowering perennial rivals Handle Bars (previously Sta. Fe) and Meralco in the early round of the tournament, the Cebuana Lhuillier team defeated last weekend Team Bulldogs who was parading a 5-1 win-loss card. Although a newcomer in the tournament, Team Bulldogs was well regarded by the other teams because of the presence of four national players in their line-up. The Bulldogs extended the Cebuana Lhuillier team into an extra inning before they were finally dispatched 13-9, courtesy of a 3-run homer by Julius Visaya. Team owner and player Jean Henri Lhuillier, who also had a homerun in the game, was very proud and pleased on how composed his team was down the stretch.

Headed by Mr. Lhuillier and Manager/Team Captain Lan Perez, the Cebuana Lhuillier softball team is using the MSSL tournament as springboard before they take the team to Bangkok to compete in the 12th Annual Bangkok Slo-pitch Softball Tournament slated in November 17-21. The tournament will gather a field of 20 teams from all over Asia (Hong Kong, Singapore, Taiwan, Japan, Korea, etc.). None are strangers to the Cebuana sluggers because most compete in the Pangaea Cup that is held annually in the country. Asked if the "Home Field Advantage" will not be missed by the team, Mr. Lhuillier stated that his team has been playing long together and has shown great promise. "It is just geography, no matter where we play, we will be ready!"

The Cebuana Lhuillier Team brought national attention and pride this February when it won the Super Division of the Annual PANGAEA CUP, one of Asia's most prestigious competitions in slo-pitch softball.