JEAN HENRI LHUILLIER, EIGHT OTHERS INDUCTED AS ASAPHIL OFFICERS
Newly-elected Amateur Softball Association of the Philippines (ASAPHIL) president, Jean Henri Lhuillier, together with eight other new board members, was officially inducted to office by no less than Philippine Olympic Committee (POC) President Cong. Jose Cojuangco Jr. in a simple ceremony held at the Fiamma Ristorante in Makati City.

Guests who came to witness the event include Philippine Ambassador to Italy Philippe J. Lhuillier, Philippine Sports Commission (PSC) Chairman William Ramirez, POC Spokesperson Joey Romasanta and POC Legal and Legislative Commission Chairman Atty. Ding Tanjuatco.

In his acceptance speech, Jean Henri Lhuillier called for unity and enjoined the POC, PSC and all stakeholders of the sport to support and contribute to the success of all of the ASAPHIL's endeavors.

"The strength of a team is not because everyone has the same ability but because each unique member is willing to contribute to its success," Jean Henri Lhuillier said.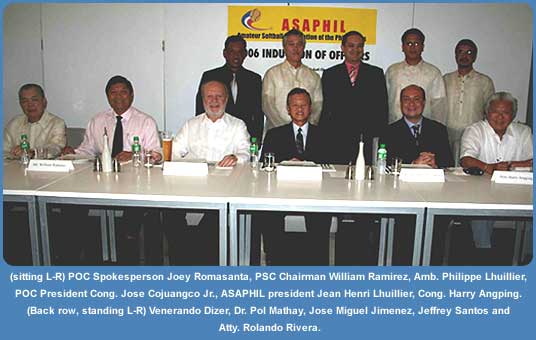 "The challenge is to revitalize and once again popularize the sport of softball. We hope to integrate all activities of the Association wherein potential softball athletes can be easily identified, and be given full support such as scholarships and proper training," he added.

Aside from Jean Henri Lhuillier, those sworn into office were Atty. Rolando Rivera, Dr. Pol Mathay, Venerando Dizer, Jose Miguel Jimenez, Jeffrey Santos, Jose Muñoz and past ASAPHIL president Harry Angping as board members. Atty. Luis Climaco, another board member, was in Zamboanga.



click an image to enlarge