CEBUANA LHUILLIER SLUGGERS FINISH SECOND AT THE ASIA CUP
The Cebuana Lhuillier Softball Team finished 2nd at the 7th Asia Taiwan International Slo-Pitch Softball Tournament held over the weekend in Taipei, Taiwan.

Playing team owner Jean Henri Lhuillier accepted the trophy for second place. Cebuana team member Uly Mejia was awarded Most Skilled Player while Apol Rosales took the individual award for Home Run King.

Impressed with the strong showing of the Philippine-based sluggers, tournament organizers expressed their desire to work with the Cebuana Lhuillier management to stage international slo-pitch games in the Philippines.

Team Cebuana breezed through their first three games on Sunday, beating Taiwanese teams Fu Sheng twice and CHSSA once to meet Dong Hua in the finals. With the combine efforts of the veterans and younger national team cast, the Sluggers were able to clobber top-seeded Dong Hua in their second encounter. A solid fourth inning, where Julius Visaya hit a 3-run homer, opened up the game while Manuel Binarao and Alex Estipular contributed double run each in the next few innings. Great defense and Estipular's on the dot pitching had the game ending in favor of the Sluggers 15-6.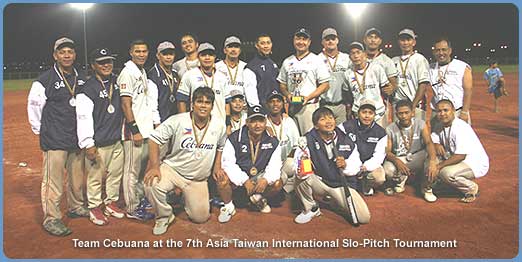 However, with the twice to beat advantage of the Taiwan-based Dong Hua, the Sluggers had to hang on to their momentum and battle Dong Hua again, despite four consecutive exhausting games. Dong Hua gained the twice to beat advantage by beating the Sluggers the day before as per the tournament's winners and losers' bracketing.

Cebuana managed two runs at the bottom of the first inning but went scoreless from then on. Alex Estipular's pitching and the team's excellent defense kept Dong Hua scoreless till the fourth. But the Taiwanese team went on a surge on the fifth inning. Backed by professional players from the Chinese leagues, Dong Hua fired 3 runs going on to clinch the championship 12-4.

Back in the country, Team Cebuana is now looking forward to reaching the finals of the ongoing Manila Slo-Pitch Softball League (MSSL) Fall Season 2006 and the PANGAEA Cup come February 2007. National maintains are also looking forward to the Asian Men's Softball Championship in Kita-Kyushu, Japan in November and the Doha Asian Games in December.



click an image to enlarge