CEBUANA SOFTBALL TEAM PREPARES FOR TAIPEI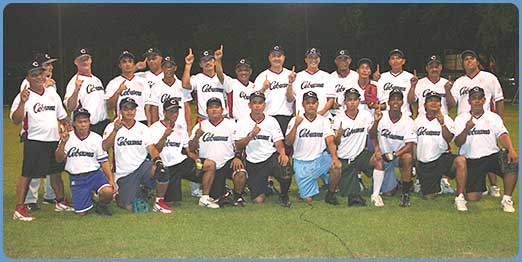 The all-star Cebuana Lhuillier Softball team is all out in preparing to conquer Taipei this September at the 2006 7th Asia Taiwan International Slo-Pitch Softball Tournament.

The team headed by playing team owner Jean Henri Lhuillier with playing head coach Lan Perez, is expected to give their rivals from countries Japan, Saudi Arabia, Indonesia, Singapore, South Korea, Hong Kong, Dubai and host country, Taiwan, a tough fight to the finish. Bannering the team are national mainstays Apol Rosales, Jasper Cabrera, Oscar Bradshaw, Fidel Moncera, Mark Rae Ramirez, Manolito Binarao and Anthony Santos, to name a few.

In the local front, the Cebuana Lhuillier team continues to make waves at the Manila Slo-pitch Softball Tournament (MSSL). The team is also back-back Division "A" champions in 2004 and 2005 of the Pangaea Cup, one of Asia's most prestigious slo-pitch softball tournaments.

The trip to Taipei is part of Jean Henri Lhuillier's sports development plan as Slo-Pitch Commissioner of the Amateur Softball Association of the Philippines (ASAPHIL).

"This is a great opportunity for us Filipinos to show to our neighboring Asian countries just how dedicated we are in developing the sport here in the Philippines. We hope to come up well in this tournament and hopefully bring home the championship cup," Jean Henri Lhuillier said.

The tournament will be held from September 23-24 at the Taipei City Baseball Stadium.