SLO-PITCH SOFTBALL DEBUTS IN CEBU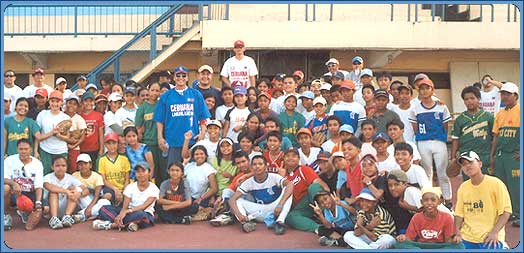 Cebuanos have added slo-pitch softball to its bustling playground after the successful completion of the 1st Cebuana Lhuillier Cebu Slo-pitch Softball Invitational last weekend. The affair, a brainchild of ASAPHIL (Amateur Softball Association of the Philippines) Commissioner for slo-pitch Jean Henri Lhuillier, was a two-in-one event that featured a half-day clinic as well as a special tournament.

The clinic, conducted by Lhuillier himself and his Cebuana Lhuillier Softball Team players, attracted more than 50 participants, ranging from elementary to high school and college students, with a sprinkling of young professionals.

"It was heartwarming to see that many participants. Seeing those kids getting into the sport strengthens my resolve to continue with our slo-pitch softball initiatives," Lhuillier said.

In the one-day tournament that followed, the Cebuana Lhuillier team made a dazzling show of force when they dominated sister team Le Soleil de Boracay (16-12) as well as local teams Cebu Flag Football/CIS PTA Selection (25-6) and Cebu fast-pitched multi-title holder Salazar Colleges of Science and Institute of Technology (18-0).

The Cebuana Lhuillier Softball team has enjoyed a string of international success, winning four consecutive titles in the past two years, including back-to-back Pangaea Championships, the Bangkok International Slo-pitch League and the 22nd Southeast Asian International Championship.

At the end of the affair, Jean Henri Lhuillier handed out medals to all the players of CFFS/CIS-PTA and Salazar Colleges, baseball caps to the best individual performers, softball gloves to young players and balls to the Cebu Association of Batted Sports which supported the affair.

With the Cebu leg a clear success, Lhuillier is starting the Cebu Slo-pitch Softball League by end of July with already six participants confirmed to play in the seven-week tourney.

All these initiatives are part of Lhuillier's long-term program to develop softball and baseball athletes for the country. "We need to introduce the sport to more and more people if we want to see the sport grow," Lhuillier said.



click an image to enlarge