2006 SLO-PITCH SEASON OFF TO A GOOD START WITH PANGAEA CUP?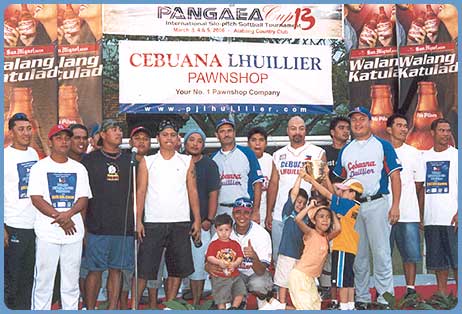 In intensely fought matches, teams in their respective divisions pulled all the stops as the 13th PANGAEA Cup International Slo-Pitch Softball Tournament came to a close giving the public a taste of world-class softball.

Pleased with the enthusiastic response of the participants and the public, Cebuana Lhuillier playing team owner Jean Henri Lhuillier, who is also Amateur Softball Association of the Philippines (ASAPHIL) Slo-Pitch Softball Commissioner, is optimistic the success of PANGAEA Cup will encourage more individuals to take interest in the sport.

"The softball field is big enough to accommodate more players and produce more stars. The growth of the sport in the country, with international tournaments being played here in Manila, is testament to the growing interest being accorded to softball," Jean Henri Lhuillier said.

This year, fifteen teams, four of which are locals, battled it out at the PANGAEA Cup held at the Alabang Country Club softball fields. The three-day tournament saw top teams dishing out explosive runs, spectacular defensive tactics and dramatic game turnarounds that raised the level of play to newer heights.
Defending Super Division back-to-back champions, Cebuana Lhuillier (www.cebuanasluggers.com) toppled the Korea Heats in the semis for a finals berth against the all-star team line-up of the Fattboyz/Guzzlers. While team Cebuana held their own, the Fattboyz/Guzzlers, toting a clean 4-0 record going into the finals, edged them out to win, 19-11.

The Fattboyz/Guzzlers was an all-star team composed of the best players from the Fattboyz and Guzzlers teams which have been playing as separate teams in past Pangaea tournaments. Cebuana Lhuillier has faced both teams, even outside of the Pangaea Cup.

Fattboyz was defeated by Cebuana Lhuillier going into the finals of last year's 22nd Southeast Asia International slo-pitch Softball Tournament in Jakarta. The Cebuana sluggers eventually won the crown. The Guzzlers of Korea were meanwhile defeated by Cebuana Lhuillier during the 12th Annual Bangkok International Softball League (BISL) in 2004.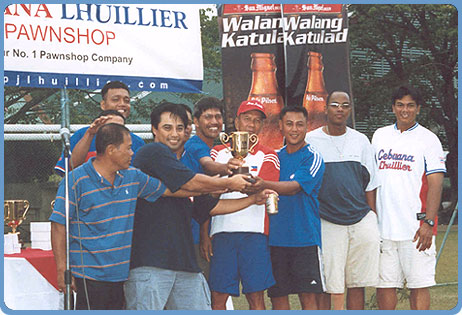 Prior to the Super Division finals, two rookie teams, Pera Padala and Los Guzzleros gave contenders in the Club Division a run for their money. Both teams came prepared to earn their slots in the championship with the Guzzleros eventually winning the cup.

The Guzzleros had their first international experience a few months ago in the Bangkok tournament. Pera Padala on the other hand, made an impressive debut in the Manila Slo-Pitch Softball League (MSSL) when they captured the 2005 Regular Season Championship with a record 14-2.

Over at the A division, two local teams, Meralco Sluggers and Handlebar Gorillas, saw action in the finals with Meralco successfully defending their crown.




click an image to enlarge