CEBUANA LHUILLIER SLUGGERS ALL SET TO DEFEND PANGAEA CUP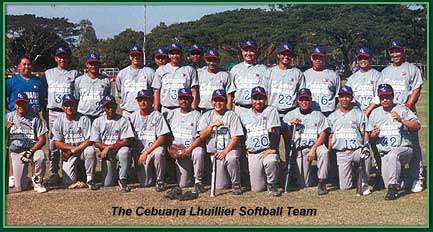 The Cebuana Lhuillier Softball team is looking forward to have the entire team back on the playing field to defend its crown in the Pangaea Cup championships this March 4-6.

The Sluggers, led by playing team owner Jean Henri Lhuillier, won the second and third division titles in the international Pangaea Cup before finally bagging the premiere Super Division title late last year. The win ended the country's 9-year drought in the competition. The team has also been playing in the Manila Slo-pitch Softball League (MSSL).

The Pangaea Cup, one of Asia's most prestigious competition in slo-pitch softball, is an annual international slo-pitch softball competition that attracts teams from all over the region, including Korea, Singapore, Taiwan, Hongkong, Indonesia and Japan.
PANGAEA CUP Game Schedule

March 4 (Friday)

Field 1
| | | |
| --- | --- | --- |
| 11:00 | | Hong Kong Turkeys vs River Rats |
| 12:30 | | Hong Kong Turkeys vs Manila Gorillas |
| 2:00 | | Gas House gas vs Premier Tokyo Tigers |
| 3:30 | | Taipei Citizen Cain vs Premier Tokyo Tigers |

Field 2
| | | |
| --- | --- | --- |
| 9:30 | | Korea Guzzlers vs Jakarta Worldwide Movers |
| 11:00 | | Just-1-More vs Korea Guzzlers |
| 12:30 | | Jakarta Worldwide Movers vs Cebuana Lhuillier |
| 2:00 | | Tilac/Fattboyz vs Just-1-More |
| 3:30 | | Cebuana Lhuillier vs Tilac/Fattboyz |

Field 3
| | | |
| --- | --- | --- |
| 11:00 | | Manila Gorillas vs Le Soleil Team |
| 12:30 | | River Rats vs Le Soleil Team |
| 2:00 | | Taipei Citizen Cain vs Meralco Sluggers |
| 3:30 | | Gas House Gang vs Meralco Sluggers |
| 3:30 | | Cebuana Lhuillier vs Tilac/Fattboyz |

March 5 (Saturday)

Field 1
| | | |
| --- | --- | --- |
| 9:30 | | Taipei Citizen Cain vs Gas House Gang |
| 11:00 | | Manila Gorillas vs River Rats |
| 12:30 | | Crossover Round Game 1 |
| 2:00 | | CrossOver Round Game 3 |
| 3:30 | | Club Game 1 Loser CR G-1 vs Loser CR G-2 |

Field 2
| | | |
| --- | --- | --- |
| 9:30 | | Just 1-More vs Cebuana Lhuillier |
| 11:00 | | Jakarta Worldwide Movers vs Tilac/Fattboyz |
| 12:30 | | Just 1-More vs Jakarta Worldwide Movers |
| 2:00 | | Korea Guzzlers vs Tilac/Fattboyz |
| 3:30 | | Cebuana Lhuillier vs Korea Guzzlers |

Field 3
| | | |
| --- | --- | --- |
| 9:30 | | Premier Tokyo Tigers vs Meralco Sluggers |
| 11:00 | | Hong Kong Turkeys vs Le Soleil Team |
| 12:30 | | CrossOver Round Game 2 |
| 2:00 | | CrossOver Round Game 4 |
| 3:30 | | Club Game 2 |

March 6 (Sunday)


| | | |
| --- | --- | --- |
| 12nn | | "Club" Level Championship |
| 1:30 | | "Group A" Level Championship |
| 3:00 | | "Super" Division Championship |