CEBUANA LHUILLIER GUNS FOR PANGAEA CUP 14
The Cebuana Lhuillier Team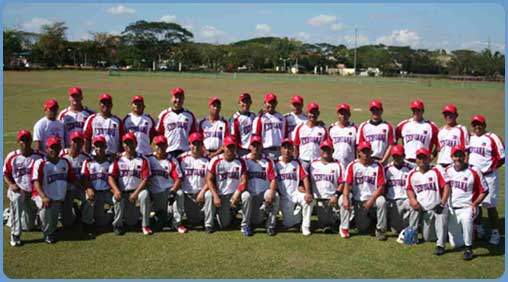 The Cebuana Lhuillier Sluggers aim to recapture the Super Club Division championship crown as the action at the 14th PANGAEA CUP international slo-pitch tournament unravels this March 2, 3 and 4 at the Alabang Country Club.

The 2004 and 2005 Super Club division champions will try to reclaim the top spot from the all-star team Fattboyz/Guzzlers who won the plum last year.

Leading the Sluggers roster this year is playing team owner and Amateur Softball Association of the Philippines (ASAPHIL) president Jean Henri Lhuillier. The team's core players are from the RP Blu Boys, who will see action for the first time this year after their impressive second place finish at the Asian Men's Championship last November in Kita-Kyushu, Japan. These include Mark Ramirez, Jasper Cabrera, Apol Rosales, Fidel Moncera, Ulysses Mejia, Romy Bumagat and Oscar Bradshaw. Comprising the coaching staff are Asaphil board members Randy Dizer and Kiko Diaz with assistant coaches Bubut Dizer, Emer Barandoc and Siegfried Villanueva.

Completing the line up are seasoned players Edwin Mercado, Julius Bisaya, Jeff Hardillo, Raymond Mariano, Michael Catolos, Noel Bumagat, Pepe Muñoz, David Garrison, Lan Perez, Robert Duliesco, Jun Veloso, Dennis de Guzman, Bert Ituralde and Anthony Santos, and team captain Ron Sangil.

The other teams who will compete in the Super Club division are Tong Hwa-Super, Sta Fe Blok Mads, Fu-Sheng and Just-1-More. The teams will compete in a round robin format with the top four teams advancing to the playoffs.

PANGAEA began as an informal club of softball enthusiasts and eventually grew to become Asia's longest running softball competition. It is now home to Asia's major softball teams, showcasing the finest softball players from amongst the best in the region including teams from Korea, Saudi-Arabia, Indonesia, Japan, Singapore, Hong Kong and the Philippines.

ASPAHIL President Jean Henri Lhuillier expressed confidence that the tournament will continue its tradition of promoting the sport of slo-pitch softball. "From a modest goal of providing a venue where we can enjoy in our passion, Pangaea can now lay claim to showcasing the finest level of play in softball competition in Asia today. It is my hope that we will encourage more individuals to take interest in the sport and join us in building our softball community," he said.

The 14th PANGAEA Cup is organized by the Amateur Slo-Pitch Softball Association of the Philippines (www.asaphil.com.ph) and is supported by Cebuana Lhuillier Pawnshop.