LHUILLIER NAMED COMMISSIONER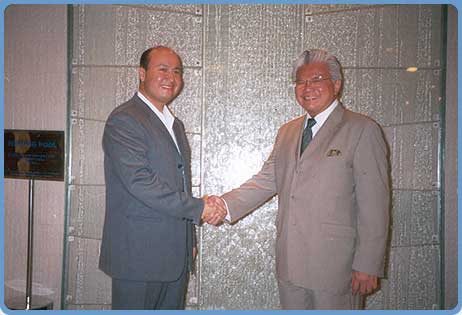 In recognition and appreciation of his commitment and untiring support to local softball, the Amateur Softball Association of the Philippines (ASAPHIL), through its President Harry Angping, has appointed sports patron Jean Henri Lhuillier as ASAPHIL Commissioner for Slo-pitch Softball.

Lhuillier is an active softball player, being playing team manager of the Cebuana Lhuillier Softball Team. Early last year, the team brought pride to the country by ruling the PANGAEA Cup, one of Asia's most prestigious competitions in slo-pitch softball. With the win, the Cebuana Lhuillier Softball team clinched for the Philippines the much-coveted Super Division Championship, ending a long nine (9) year draught for the Philippines.

Also last year, the team ruled the Bangkok International Softball League (BISL) Tournament. Again it made history by becoming the first all-Filipino team to dominate the annual tourney that saw 19 strong teams from all over Southeast Asia competing.

With his appointment as Commissioner, Lhuillier is poised to put together a developmental program for slo-pitch softball. He intends to drum up more interest for the sport through the staging of local tournaments as well as support the continuous training of local players.