RTU IS 1ST CEBUANA SOFTBALL INVITATIONAL CHAMPIONS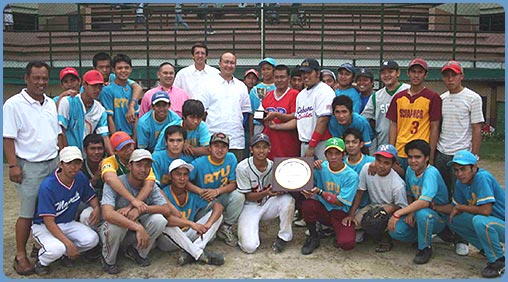 The Rizal Technological University (RTU) men's team beat Rosario-Pasig to bag the 1st Cebuana Lhuillier Fast-Pitch Softball Invitational Tournament championship crown held recently at the Rosario Softball Arena in Pasig City.

Jerome Bacarisas scored a run in the 1st inning to pace the game in favor of the RTU squad. The team pulled together four more runs in the 3rd and 5th inning to seal their victory, 5 to 1. It was sweet revenge for RTU as the team suffered its only loss in the tournament during a semifinals game against Rosario-Pasig.

While the men's teams dominated the top two slots, the RP Blu Girls played an almost perfect game against the University of the Philippines women's team, 7-0, to clinch 3rd place. Nimpa Baral handed the girls their first point with Nelia Lara at bat. After that, there was no way the UP squad could catch up with the national team.

The Amateur Softball Association of the Philippines (ASAPHIL), headed by its president, Jean Henri Lhuillier, organized the tournament as part of the RP Blu Girls' preparation for the Asia-Oceania Olympic Qualifier in Taiwan set for February 2007.

"I am very happy with the tournament turn-out. By facing our top collegiate men's teams, we have upped the ante for our Blu Girls' training. Japan is leading in Asia because of their rigorous training and international exposure. Hopefully with the programs we have for our players and for those that we can also tap especially in the provinces, we will be able to match if not surpass Japan," Lhuillier added.

During the awarding ceremonies, Lhuillier also shared some of the projects ASAPHIL has lined-up for next year, beginning with the National Open and an inter-collegiate tournament. Lhuillier expressed his optimism that through the projects they've lined-up for the sport, our softball athletes can increase their chances of winning in international tournaments.

The other teams that participated in the tournament include the University of Sto. Tomas women's team, Adamson University women's team and the International Little League Association of Manila (ILLAM)-Big League Girls team.